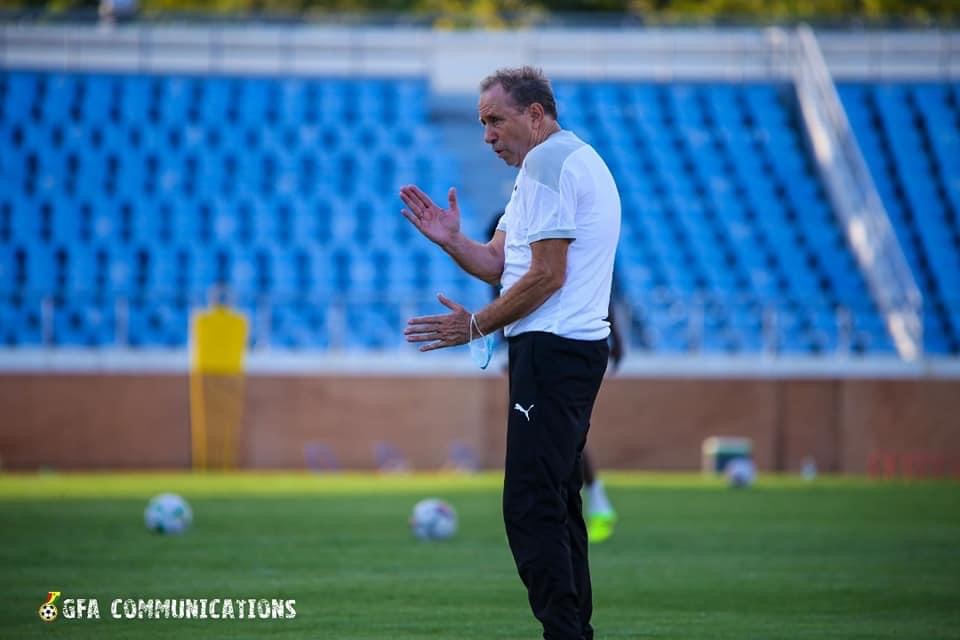 Our Head Coach Milovan Rajevac gave some great ratings to the team's performance against Zimbabwe on Saturday. The Black Stars put in a good shift to dispatch the Warriors 3-1 at the Cape Coast stadium to get back to winning ways after losing to South Africa in September. The 67 year old Serbian who was making his second bow as Coach of the Black Stars touched on a solid team performance, the quality of Joojo Wollocott, the tactical changes in the second half, the confidence of Jordan Ayew and more:
Read on for the full transcript:
Coach Milovan on the game
All in all, it was a good game after the result we had. We started the game well but later in the match we had some problems especially in the second half and we conceded a goal but I managed to identify some of the problems and to make the right substitution so we came back and won. We were lucky at some moments of the match but the most important for us is that we got three points and out hard work has paid off
On what led to selecting his goalkeeper Joojo Wollocott
First of all, it was through good scouting and he arrived and proved himself at the training sessions. He really did a great job and he deserved his chance. I think he was at the top of the game and I am personally satisfied with his performance. I don't want to praise goalkeepers too much but he really did a good job
On why Joel Fameyeh and others weren't selected for the game
He is not injured, it is just a situation we had and we needed to excuse few players as we could only register 23 players for the match and we needed to invite more players because of the COVID. They should be proud but it is always a tough decision to choose somebody you think is more appropriate for some games. It was a Coach's decision. It doesn't mean they are not in contention for the next match. They are with us and part of the team.
On difference between first debut in first stint and today
It is different in terms of results. In my first stint I played against Tanzania and it ended 1:1 and the first competitive match was against Libya but today, the results was excellent and I will congratulate al my players for their efforts and we did this together. They all participated and so we are looking ahead of the next match so we have to focus on our next challenge.
On defenders and how to adjust to reverse fixture in Harare
The situation with Andy We were waiting and he had some left foot injury so at the last moment we had to cancel his departure to come here and we had less options than we supposed to have. This is my decision, I decided for this game and I believe in those players. Yes we conceded one goal but I still believe these guys are capable of doing their task in an appropriate way and they can play well and do what is important for the team.
On introduction of Baba Idrissu and how impressive he was after coming on
We faced some difficulties in the start of the second half especially our first block couldn't do their task very well and there was a lot of pressure especially with the king balls on our defence so it was important to make a decision to introduce Baba IDDRISU especially because of the second balls so it was important to improve that area. It was a tactical decision and it proved a very good decision for us and affected the team in a right way so I'm this situation you have to be able to see and identify problems and make right decisions. I think all of them did well and definitely at one point it was difficult to keep up with the rhythm but we eventually managed to overcome these problems and to come back and score another two goals and win this game
On Jordan Ayew
Jordan was trying to do his best and the players in the attack, both on the wings and him were trying and doing a lot of work. Especially after 1:0 we created one more excellent chance but unfortunately we didn't use it. After the game, they became tired and so we needed to react and bring some fresh players to replace them but according to the situation and circumstances he was fighting well and I can be satisfied with his efforts.
On one goal project and whether scoring three was an answer to critics
I said at the press conference that it was some mantra from the journalists but as you could see some also said I was a defensive coach but you see that if you look at the first eleven, you could see how much we wanted to score and we could have scored three more goals and we could concede more than one but definitely we are always trying to do our best and try to score more goals but in the end victory is the most important and today we showed our attacking force but sometimes it is not easy especially in these tough matches. In the end, everything was okay and pretty satisfied with the effort and results.
GFA COMMUNICATIONS