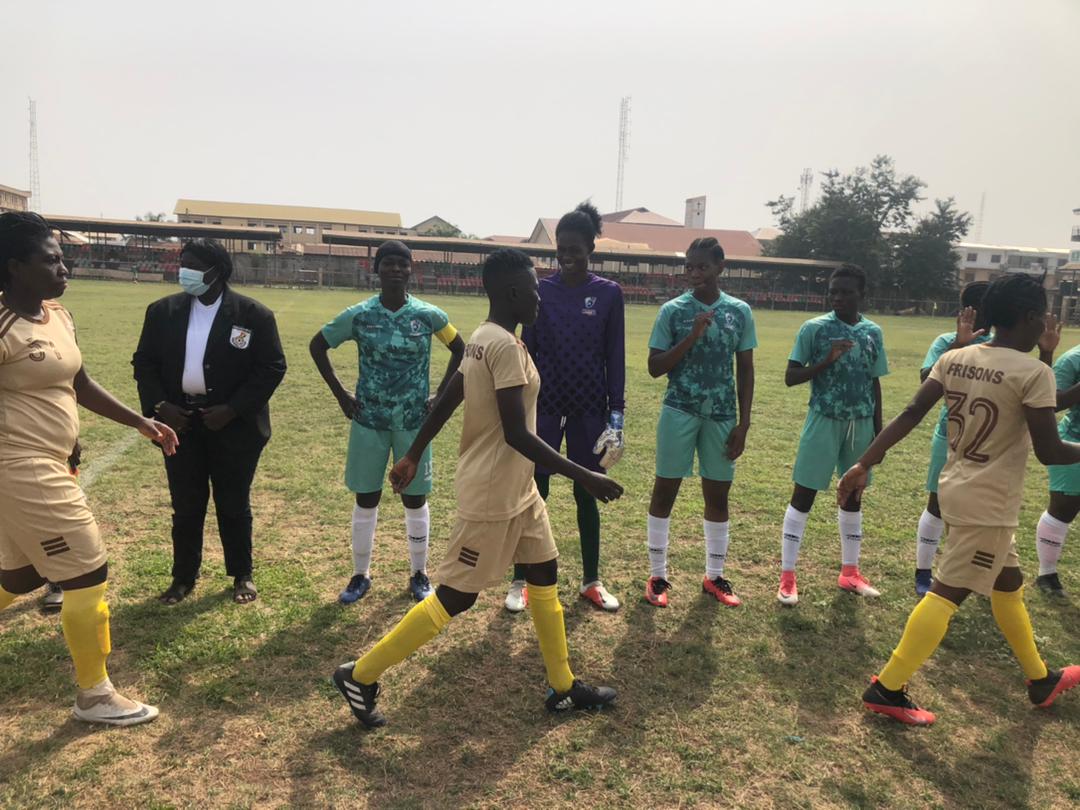 Prisons Ladies ended their five game winless home run with a lone goal victory over Pearl Pia Ladies in an enthralling encounter at the Sunyani Coronation park.
The match day 6 game, which pitted two sides with points to prove, with the home side who were yet to win a game and the away side chasing their first victory on the road. Pearl Pia Ladies started the game as the more determined side.
Iddrisu Mariam and Iddrisu Fahima got opportunities to shoot the away side into the lead but their efforts were thwarted by solid defensive masterclass from the home side. Prisons Ladies gradually warmed themselves into the game but none of the sides was able to unlock the defence of the opponents and the first half ended without a goal.
The second half started with Prisons Ladies on the front foot. The home side started the second half as the more purposeful side with some delightful football. It wasn't surprising therefore that just two minutes inside the second half, Abigail Tutuwaa broke the deadlock of for Persons Ladies.
Pegged back by the goal, Pearl Pia Ladies started mounting pressure on the home side in a bid to find the equalizer. Prisons Ladies were however very resolute defensively and successfully repelled all the attacks by Pearl Pia Ladies.
Prisons Ladies introduced Doreen Obeng, Kuburah Abubakari and Rasheda Inkoom to replace Nida Mensah, Shirley Sosi and Doreen Obeng respectively in the 62nd, 84th and 88th minutes respectively.
Pearl Pia Ladies, in their quest to find the elusive equalizer also introduced Fuseini Afishetu in place of Abdul Rashid Faiza, Felicity Antwi in place of Iddrisu Mariam and Jennifer David Piong in place of Iddrisu Fahima respectively on the 65th, 68th, and 82nd minutes.
Despite all the attempts of Pearl Pia Ladies to find the equalizer, their efforts went unrewarded.
Prisons Ladies won their first home game of the season, leaving Pearl Pia Ladies still chasing their first victory away from home.
Helena Obeng of Prisons Ladies was adjudged the best player.
GFA COMMUNICATIONS