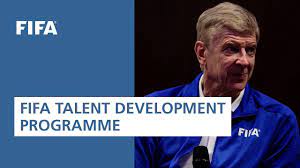 World Football governing body FIFA has approved Ghana's application to sign up for the first-ever the Talent Development Scheme programme.
This was contained in a letter signed by Arsene Wenger, Chief of Global Football Development of FIFA and copied to General Secretary Prosper Harrison Addo (Esq.) and Technical Director Bernard Lippert.
For this reason, Hesterine de Reus - one of FIFA's High-Performance Specialists has been appointed to provide information on how the TDS will work and how Ghana will benefit from it, including details on the initial fund and its uses. She will also talk in greater detail about the four pillars of support that will make up the TDS, namely:
Expertise – the combined know-how of our group to help each member association create a state-of-the-art and tailor-made talent development programme;
Training and education – delivered both on-site and online through the recently launched FIFA Training Centre;
Knowledge exchange platform – to enable collaboration between member associations so that they can address common challenges and discover potential solutions; and
Funding – to support the above three pillars. We look forward to working together to fine-tune the development of your strategic plans on talent development with the guidance of our TDS Specialist.
Launched in January 2020 by FIFA's Chief of Global Football Development Arsène Wenger, the programme aims to provide Member Associations with a thorough analysis of their high performance ecosystem in both men's and women's football, including all national teams, domestic leagues, scouting projects and academies, in order to ensure that every talented player gets a chance to reach their full potential.
FIFA expects to focus on the implementation of tailor-made technical programmes for each Member Association with a view to tackling potential challenges and maximising the comparative advantages that each Association possesses.
Technical Director Bernhard Lippert who has been instrumental in securing this programme for the Ghana Football Association will play a key role in the implantation and execution of the programme.
Over 200 Member Associations across all Confederations have already signed up for the programme.
GFA COMMUNICATIONS