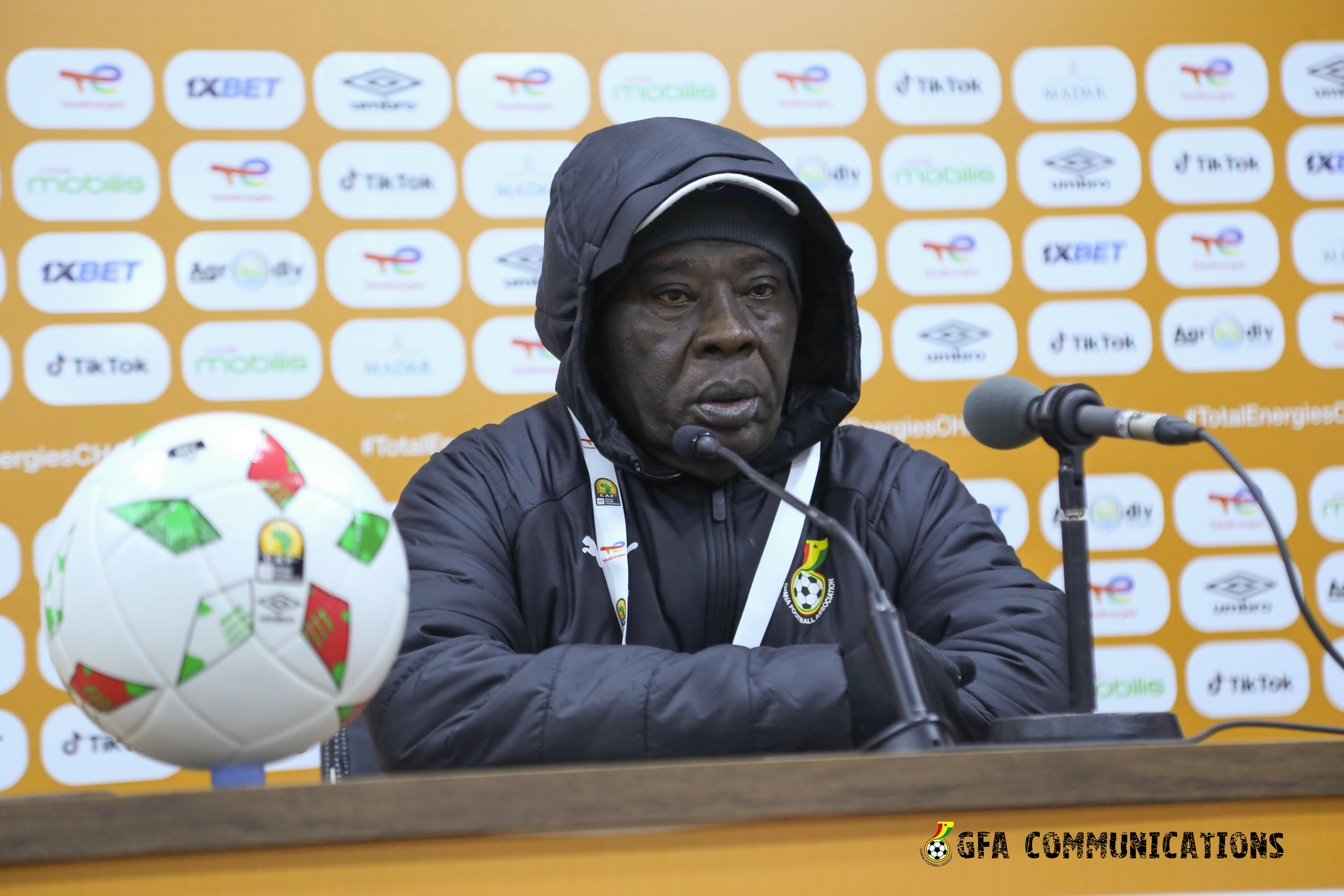 Coach Annor Walker has expressed gratitude to Ghanaians for the supporting the Black Galaxies in their 3-1 win over Sudan in Constantine.
The Black Galaxies fought back from a goal down to record a dramatic win to keep their tournament dreams alive.
Head Coach Annor Walker was at the press conference and this is what he told the media:
Coach Annor Walker on how he feels after the win:
Firstly let me thank God Almighty for giving me my heart desire. Even at the pre-match press conference I realized that everyone expected Ghana to win and I relayed to my boys that the press men were telling me that the game it is a must win for us.
I am very happy for the win. Its a win for the team for Ghana and for all Ghanaians. Thank you to all Ghanaians and thank you  to everyone who supported Ghana.
Coach Annor Walker on reaction of his players after conceding the first goal:
My players looked surprised after conceding the goal. When I got the opportunity to talk to them I  psyched them up and let them know it's not over yet. I told them we can really make it and I made them know its not over until it is all over.
How he motivated his team against the atmosphere at the stadium which was supporting Sudan
We knew we don't have supporters here and we wouldn't get much support at the stadium. We relied on ourselves to fight to survive. We saw the fans shouting in support of Sudan and we knew we had to fight for ourselves and thats what made us successful.
Coach Annor Walker answers questions on some flaws in Ghana's defense:
Occasionally we saw some mistakes there but its part of football. The players need to be directed and coached. I am aware of some mistakes in my defence and as we move forward we will correct them.
 Coach Annor Walker on which team Ghana will prefer to play in the quarterfinals:
I don't know the teams that will make it yet. When we know our possible opponents then we can prepare for them.
Coach speaks the organisation of the tournament: 
We have been happy here in Constantine. We've not had any problem. We are happy staying in Constantine. From what I have realized i am convinced and happy that the organization has been good. I am happy to be in this competition
Coach got some praise on his calm nature on the bench he spoke how he managed his composure throughout the match: 
As a coach I have trained with them for over a year. I know my players and they know me. When they are playing on the pitch I don't need to be shouting. This is my style of coaching. In training i can shout but on the pitch I leave them to play and shout when it's necessary to do so.
Coach on Afriyie Barnieh's red card and  how it will affect the team
It's unfortunate Afriyie got the red card. He's one of my top strikers. But I came with 25 players so I will have a replacement to play in the quarterfinals stage and after that he can be in action.