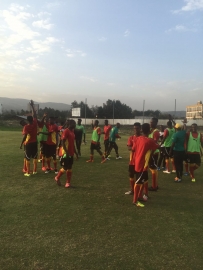 The national U20 team held their first full training session on Friday ahead of their African Youth Championship (AYC) first leg qualifying game against Ethiopia.
A 29-man delegation left Accra on Thursday afternoon to Addis Ababa where they will face their Ethiopian counterparts on Sunday.
Coach Mas Ud Dramani took his 18-man squad through the training session at the Commercial Bank of Ethiopia SA Training pitch.
The Black Satellites will hold their final training session at 4pm (local time) at the Addis Ababa Stadium on Saturday before Sunday's game.
The team earlier held a light training session at their hotel on Friday morning.
Click here for a video of the light training session: